Core's Core
As one of the originals in fintech investing, our relationships provide strategic industry insight and a competitive advantage. As a long-term, value-driven partner, we leverage our deep experience in every corner of the industry, supplying guidance to our partners as they navigate the challenges of an ever evolving market.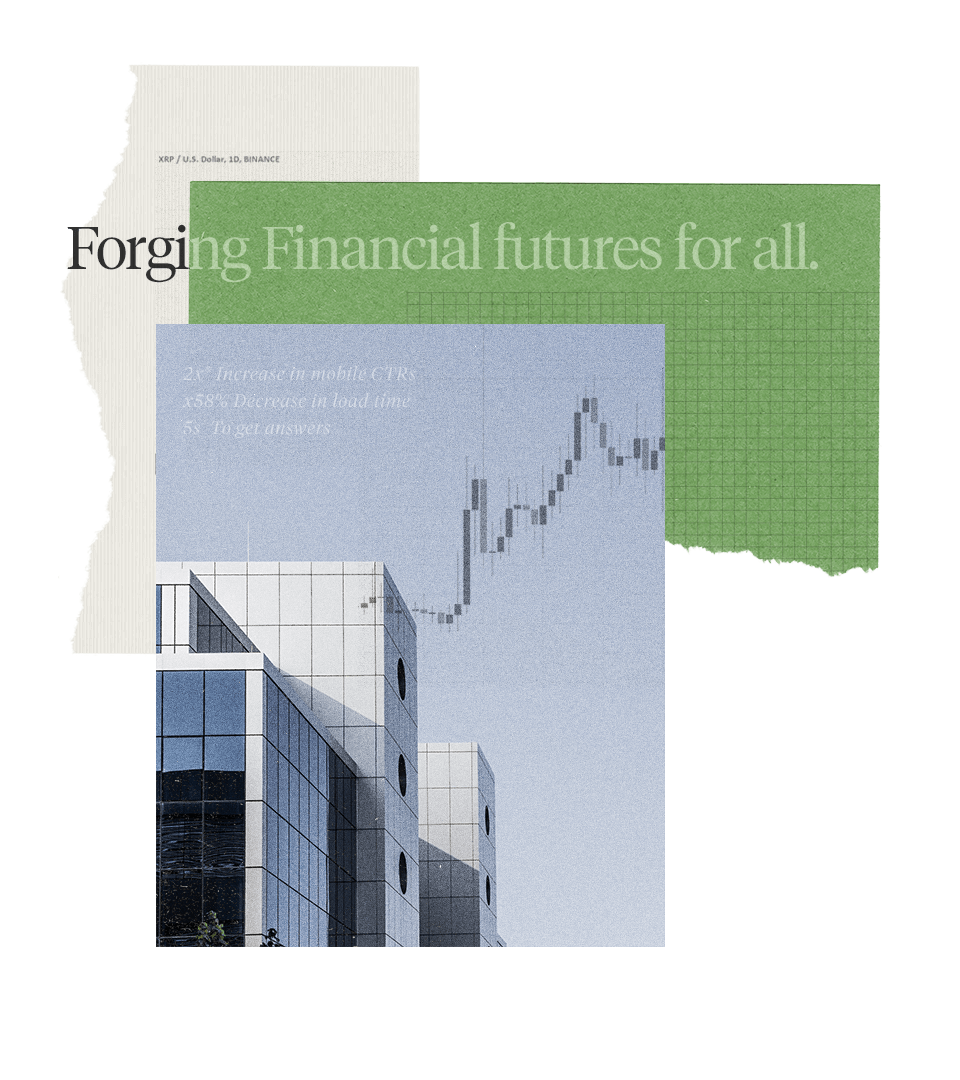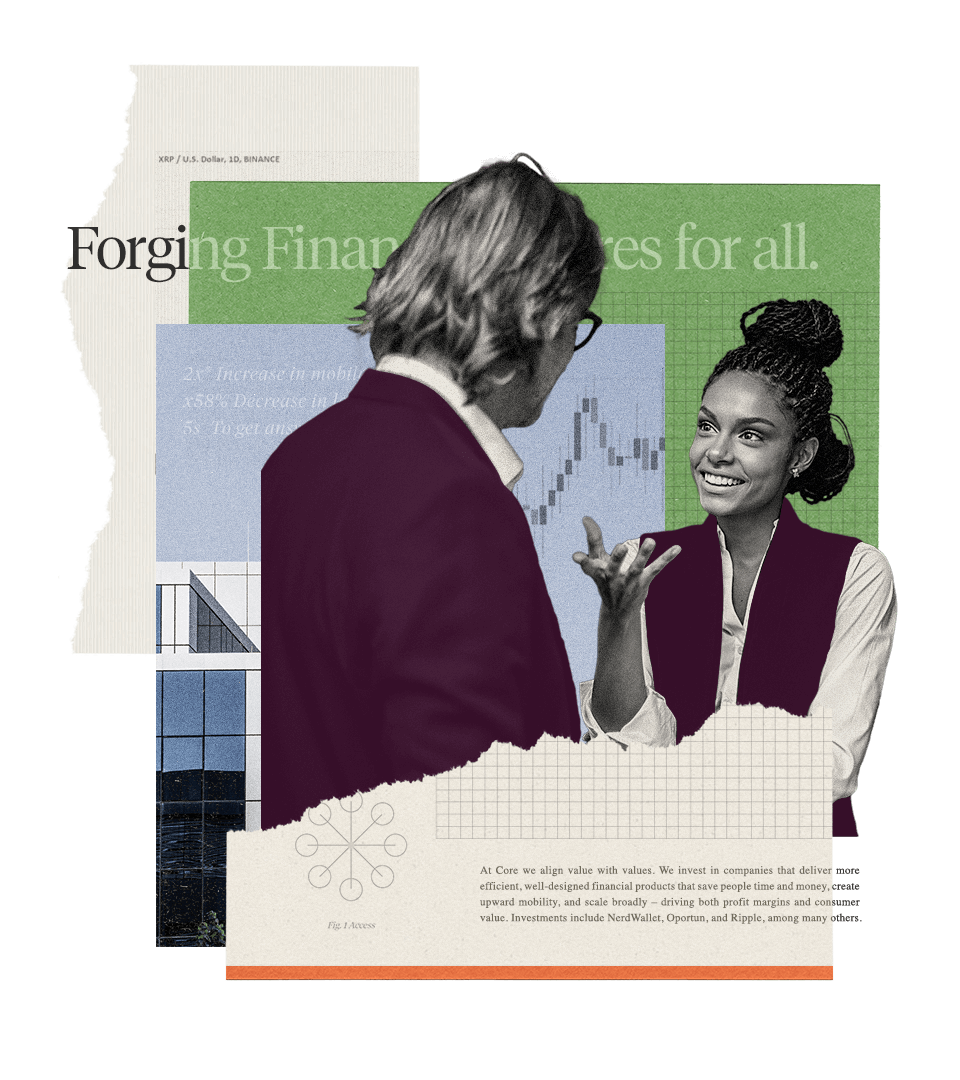 Core's Core
As one of the originals in fintech investing, our relationships provide strategic industry insight and a competitive advantage. As a long-term, value-driven partner, we leverage our deep experience in every corner of the industry, supplying guidance to our partners as they navigate the challenges of an ever-evolving market.
Founder Testimonials
"
With its world class expert network, strong focus on financial inclusion and thoughtful approach, Core Innovation Capital is an investor every mission-driven Fintech company should bring onboard.

CYNTHIA CHEN
Co-founder & CEO, Kikoff

Working with Core has been one of the great pleasures of my career. Their intensity for mission has been inspiring and a great fit for us. In addition, Core has been a phenomenal partner. I can't give a stronger vote of confidence for a VC.

Jordan Wright
Co-founder & CEO, Atomic Financial

We put a lot of effort into finding a capital partner that was truly mission-aligned and not just paying lip service to social impact. Core has always walked the walk, and that truly matters when I have hard decisions to make as a founder.

Atticus LeBlanc
Co-founder & CEO, Padsplit
Meet the Team
Chris Bishko

General Partner

Fintech can be a force for good by enabling people to achieve financial security and access income generation and wealth creation opportunities.  Entrepreneurs using new technologies hold the promise of breakthrough outcomes.

Chris joins Core with more than 30 years of experience in technology and financial services operations, investing and investment banking.  Chris has been around Core since inception, initially as a LP during his almost decade with Omidyar Technology Ventures and Omidyar Network.  Most recently Chris has been the CFO of three successful technology companies.  Chris is passionate about collaborating with business builders who connect left and right brain dots to solve big and complex problems. He is a voracious reader who also enjoys tennis, listening to his daughter's rock guitar music and playing basketball with his two sons.

https://www.linkedin.com/in/chris-bishko-7b2434b/

chris@corevc.com

Susan Ehrlich

Partner

Banking is necessary, banks are not. There are so many inefficiencies in how access and distribution of money work today. I am excited to invest in transformations that expand access and lower cost.

Susan helped form Core in 2009 while serving as Chair of FHN's board. Filled with joie de vivre, Susan is a seasoned C-suite pro. She's spent over 25 years leading fintech, ecommerce, payments and financial services businesses from Citi to Simple & Lending Club, and from Sears to Amazon & Earnest. She brings a passion for–and track record of–expanding access to affordable financial products and improving consumer financial health. Susan is an avid golf player and wine enthusiast who brings her can-do, business-building insights to every conversation.

https://www.linkedin.com/in/susanehrlich/

susan@corevc.com

Edwin Loredo

Partner

I'd love to see fintech make homeownership more accessible and affordable, while also empowering individuals to better manage their most valuable asset throughout its lifetime.

Edwin is a numbers guy with a big heart. Mexican-American, born and raised in Burbank, he grew up watching family and neighbors rely on payday loans and check cashers and now spends his days in search of companies that can drastically improve the lives of low- and moderate income families. Prior to Core, Edwin was part of GCA Advisors' M&A and Private Capital practices, with a partial focus on fintech. Edwin graduated from Princeton University with honors. He is an avid real estate investor and die hard Lakers and Yankees fan.

https://www.linkedin.com/in/edwin-loredo-a5a94512a/

edwin@corevc.com

David Roos

Partner

Fintech can help alleviate some of life's biggest stressors – overwhelming debt, unaffordable housing, staggering healthcare costs, inadequate retirement savings and so much more. That is what is so exciting.

Silicon Valley through and through, David's interests run the gamut. Public policy and macro economics led him to an early career as an interest rate trader on Wall Street. His passion for mission-driven startups was born from his operating roles at an early-stage fintech company in Nigeria and a volunteer management startup in New York. David holds a BS in Management Science & Engineering from Stanford and an MBA from Harvard. He's a fervent golfer, avid biker, and a devoted Bay Area sports fan.

https://www.linkedin.com/in/david-roos-24632457/?trk=people-guest_people_search-card

https://twitter.com/roosontheloos

david@corevc.com

Arjan Schütte

Founder & Managing Partner

"There is nothing more dangerous than someone who wants to make the world a better place" - Banksy

Philosophical at heart, Arjan grew up in the Netherlands and came to the US when he was 16 (Minnesota). He spent the first ten years of his career building software for a couple of EdTech startups (a dud, IPO and sale). He helped start CFSI (now the Financial Health Network), where he started investing in fintech off the side of his desk (with several exits and an IPO). Collectively, these experiences helped him to launch Core.

https://www.linkedin.com/in/arjanschutte/

https://twitter.com/arjanschutte

arjan@corevc.com

Zev Wexler

COO/CFO

There's an expression in the Jewish tradition-"You are not required to finish your work, yet neither are you permitted to desist from it." While financial problems are often complicated and deep-rooted, I believe Core is doing its part to make people's financial lives a little easier.

Methodical and very funny, Zev is Core's backbone. He used to be a white shoe lawyer in New York, focusing on tax and private equity, after working in Blackrock's taxable financial institutions group. He's a Chartered Financial Analyst, a member of the New York State bar, and a Dodgers fan who loves to play basketball. Zev has long been active in microfinance, economic development, and several nonprofit boards.

https://www.linkedin.com/in/zev-wexler-cfa-2b0a63/

zev@corevc.com

Celine Pintado

Executive Assistant

"Don't let yesterday take up too much of today." - Will Rogers

Celine is a tenacious and thorough native Angelino. She supports the founder and keeps Core running on all cylinders. Long active in local politics with a wide network of personal and professional friends, Celine gets things done. Prior to joining Core, Celine assisted a former Los Angeles City Council member for seven years. She dotes over her family and is passionate about financial health.

celine@corevc.com

Will Oberndorf

Venture Partner

My favorite part of the job is when you become THE trusted advisor to the entrepreneur. This isn't won like a deal, but is earned. Being the late night call and helping solve problems is why I got in this business, and it is which I derive the most satisfaction.

A value investor at heart, Will naturally puts what's new and exciting into a perspective beyond his years. He is a venture investor at Oberndorf Ventures focusing largely on fintech, insuretech, proptech and enterprise software, leveraging the Oberndorf firm's public markets expertise. He's an avid fly fisher and loyal to Silicon Valley sports teams. Modest and unassuming, he's a trusted advisor to his portfolio CEOs, and Stanford alum.

https://www.linkedin.com/in/will-oberndorf-2b3b85122/

will@oberndorfent.com

Adam Shapiro

Regulatory Partner

I'd love to see fintech solve for getting high-quality financial advice to everyone, not just the wealthy and large corporations that can afford to pay for existing low-tech solutions.

Adam loves solving puzzles, ranging from how to align fintech innovation with regulation to the New York Times crossword. He started his career as a regulator in the UK. After moving to the US to see if he and his (now) wife could stand each other if they spent more than 2 weeks in the same place, he ran Promontory Financial Group's Fintech practice and was Head of Strategy for BBVA's Open API Platform. When not helping Core and its portcos, he is a Co-Founder and Partner at Klaros Group.

https://www.linkedin.com/in/adamgshapiro/

adam@corevc.com

Alicia Bassuk

Senior Advisor

I most enjoy accelerating the growth and success of everyone around me. And helping them win more. Who doesn't love to win?

As a first-gen Latina, Alicia has an unwavering commitment to contribute to the conditions that enable everyone to pursue the American dream. After completing her Chicago Business Fellowship at Booth, she has supported the C-Suite and other senior executives in the private, public and non-profit sectors, as a hybrid coach/consultant/advisor.

https://www.linkedin.com/in/aliciabassuk/

alicia@corevc.com

Kat Utecht

Partner Emeritus

I'm excited about awesome teams building at the intersection of healthcare and payments, finance and insurance!

A natural investor, Kat was likely a superstar point guard in another life. Born outside of NYC, she has been making things happen ever since she could talk and investing in startups ever since she's had a paycheck. She first joined Core in 2011 as a Principal becoming a GP in 2015. Prior, she started and sold an entertainment company and did tours of duty at Comcast Ventures, Raymond James, and GE Capital.

https://www.linkedin.com/in/kutecht/

https://twitter.com/KUtecht

Kat@corevc.com
Latest perspectives
and insights.
Subscribe to our newsletter and get the latest news, insights and industry reports.