Catching the Demographic Waves In Fintech
Author: Susan Ehrlich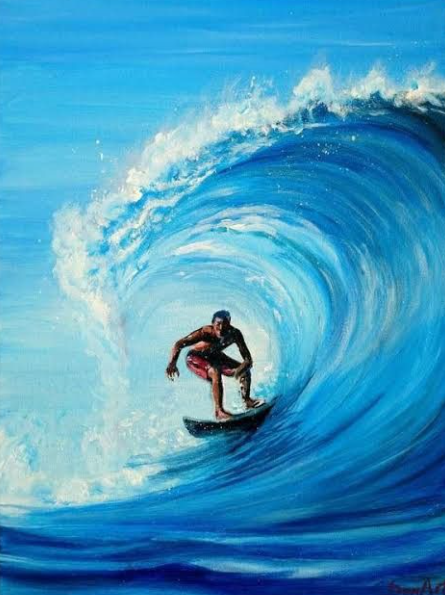 "A great investment opportunity occurs when a marvelous business encounters a one-time huge, but solvable problem."  – Warren Buffett
Twenty-five years after I began my career in financial services, I stepped out of my role as a general manager and operator and into a new role as an investor with Core Innovation Capital.  In that new role, I am on the lookout for great investment opportunities in the evolving and ever-growing space of financial technology.  At the start of that journey, my colleagues and I devoted considerable time to looking for what Warren Buffett calls those huge but solvable problems that are the catalyst for great investment opportunities in the U.S fintech space.    
This search has led us to tracking three critical demographic waves creating attractive new profit pools, inspiring fintech innovation, and fueling our enthusiasm for U.S. fintech overall, as my colleague David Roos described in his blogpost last month.
Our Expanding Diversity
The first of these waves is our expanding diversity:  Over the next few decades, the population of Hispanics in the United States will increase 50% from just over 60 million in 2020 to just over 90 million by 2045 and will make 25% of the U.S. population Spanish speaking.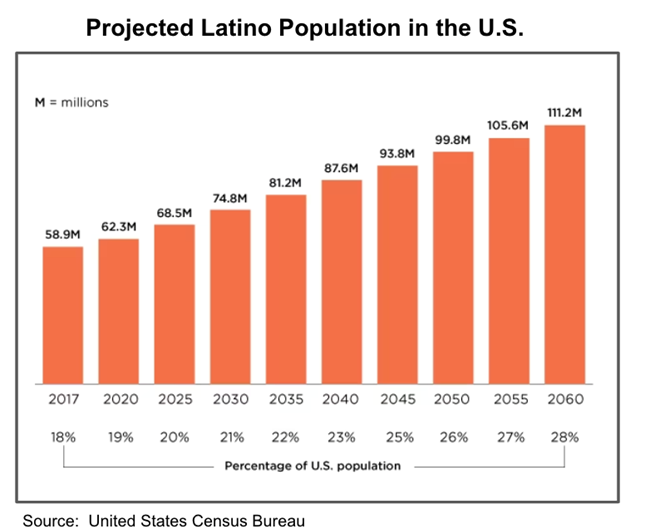 While immigration and demographics are creating an increasingly multilingual population, companies have traditionally relied on one-size-fits-all solutions to generalized population characteristics – leaving many segments un- or underserved.  Technologies like generative AI will enable mass customization on a scale not possible even a few short years ago.   Companies like Upwage, a Core portfolio company, are using AI to enable hourly workers, predominantly immigrant and female, to find jobs paying the highest wage for their skillset and conduct a screening interview at a time most convenient for them and their work schedule, not the recruiters, cutting the time to offer from months and weeks to days.  And companies like Maza are automating the ITIN process – giving immigrants, primarily Spanish-speaking – the U.S. tax identity needed to receive payments from employers, file taxes, access credit and build wealth.   
And Latinos have become the fastest growing segment of small business owners in the U.S.– starting small businesses faster than the rest of the population.  If Latino-owned businesses grow as fast as the U.S. average, they could add $1.4 trillion– almost 8%– to the $18 trillion U.S. economy.  Companies like Plata are creating an all-in-one banking, payroll and payments solution for Latino SMBs. And companies like Seis are creating a bank built 100% in Spanish for US Spanish speakers
Our Aging Population
The second of these waves is our aging population:  Over the next two decades, the percentage of the U.S. population 65 years and older will outnumber the percentage under the age of 18 for the first time in our history.  Our population distribution which historically looked like a pyramid, is rapidly resembling a rectangle with important implications for our society:
U.S. Population by Age Group:  1950 v 2050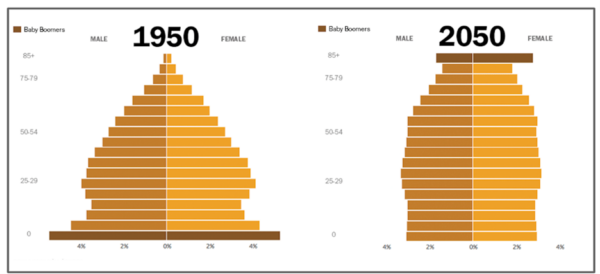 An aging population is creating strains on current systems and leading to an overall rise in health care costs as the average health care costs for a patient over 65 is 3x that of a patient in their 20s and 30s.  Addressing these pressures on health insurance and its costs, innovators like Pasito (a Core portfolio company) are leveraging APIs and AI/ML to help full time employees optimize their health care benefits – creating personalized insights into their health care usage and needs – saving them and their employers over a $1,400 a year while ensuring they have the coverages they need.  Other ventures, like Assured Allies (another Core portfolio company), are creating personalized aging-at-home solutions that lower overall costs while improving quality of life for seniors. 
An aging population also creates new opportunities – like the unmet needs of managing personal finances and decumulation of savings and investments over a growing period of time post full time employment.  Here, companies like PensionPlus are reinventing the "pension"  by providing retirees peace of mind with a personalized and lifelong monthly paycheck. Guidance on when to draw down their savings, how to maximize their runway, and how to minimize their taxes gives seniors much needed peace of mind.  While Retirable is building financial plans for retirees– offering reliable monthly income alongside the ongoing care of a financial expert. 
Our Increasingly Independent Workforce
The third wave is our evolving workforce:  Over the next decade, the U.S. workforce will see the majority of its participants employed as independent contractors and not as full time employees.
This development creates both strains on our current systems as well as opportunity for innovation.  Employment policies in the US have traditionally tied health care, retirement and professional training benefits to full time employment.  This system will no longer work for the majority of this new workforce.    In addition, a growing population of independent contractors will need tools that help them purchase health care, pay taxes, manage expenses, and maximize the income they can earn.    
Innovators, like HealthSherpa, are creating a faster and easier way to enroll in ACA / Marketplace insurance, ensuring that anyone in need of affordable health care can find it.  Companies like Hopscotch are creating an all-in-one invoicing and bill pay platform to simplify getting paid while also providing fee-free payment options for full-time freelancers, contractors, and gig workers.
Our Search for Catalyzing Solutions
"The Noah rule: Predicting rain doesn't count; building arks does."  – Warren Buffett
Returning to the investing wisdom of Warren Buffett, it requires more than seeing (or predicting) the huge but solvable problems these demographic waves are generating.  It requires entrepreneurs and innovators building arks – creating new products and companies that address these opportunities in ways that meet these unmet needs profitably and sustainably. If you are a creator building in these spaces, we'd like to hear more about what you are working on.  We want to introduce you to our portfolio of  passionate founders and connect you with our network of experienced advisors. 
Let's build arks together!   
Subscribe to our newsletter and get the latest news, insights and industry reports.