The New Reality: Everything is More Expensive
Author: Edwin Loredo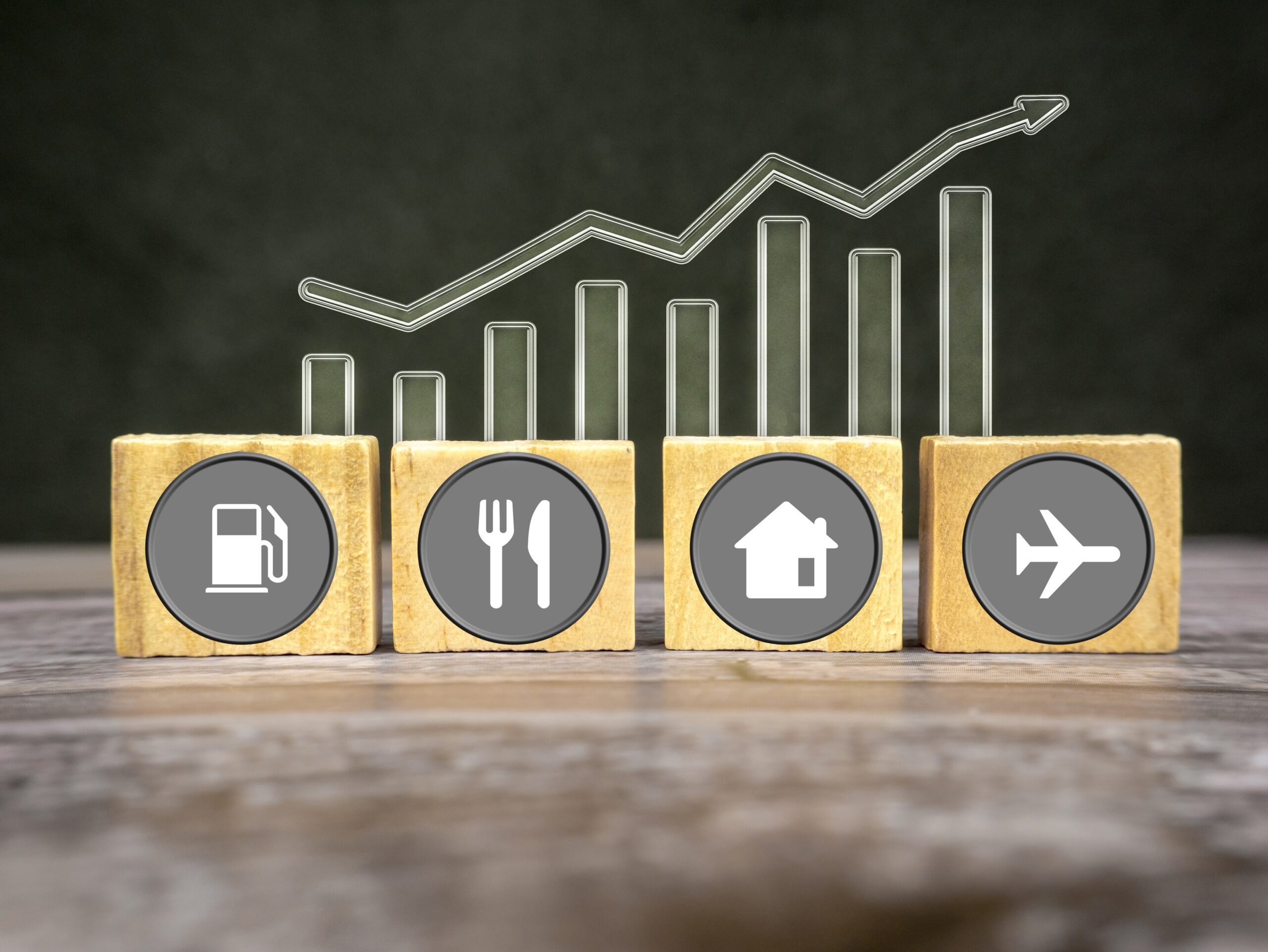 As we approach the end of 2023, the U.S. economy remains unsettled, with next year's economic trajectory unclear. The economy—and particularly the consumer sector—has materially evolved since the zero-interest period of the COVID era. Despite the 540 basis-point inflation rate reduction from the 2022 peak, we remain in a precarious situation as global instability is likely to exert upward pressure, potentially resulting in higher rates for longer. The scenario is complicated by America's rising $33T debt (1) and a growing national deficit. While the U.S. has managed a widening deficit for years without major fallout, the surging debt has recently come under scrutiny in the headlines. Should adverse fiscal outcomes—such as the market reverting to increasing rates, or the strain of escalating debt servicing costs—materialize, they could significantly challenge our (somewhat unstable) economy.
So, what does this mean for the everyday American? In a scenario where rates remain high, the purchasing power of the consumer dollar will remain diminished, posing challenges for households and businesses as the costs of essential goods and services stay elevated. Core strongly believes these economic factors highlight the need for responsible money decisions, setting the stage for fintech to drive meaningful impact.
Growing Beyond Financial Institutions, Fintech is Everywhere
Building on the robust infrastructure established over the last decade (e.g. Plaid, Stripe, Atomic*), fintech can now effectively expand beyond traditional financial services. A level of maturation has been reached that allows fintech to infiltrate needle-mover financial categories impacting the average American's P&L. Assessing opportunities in this next fintech wave, we'll emphasize scalable go-to-market and distribution strategies to drive superior unit economics and customer value.
Where are we focusing our attention?
Housing Accessibility and Affordability

: Housing is fundamental to stability and a primary source of wealth. As a venture fund, our focus is on boosting the supply side, democratizing homeownership, and transforming the rental experience.

Small to Medium-Sized Businesses (SMBs) and Workforce Empowerment

: Acknowledging the crucial role of SMBs and the workforce in fueling the U.S. economy, we are channeling our investments toward products designed to elevate efficiency and owner/employee earning potential. 

Healthcare Optimization

:  Our goal is to bridge the gap between the reach of healthcare services and their financial feasibility, drive the sector towards elevated efficiency, and increase the value employees can derive from employee benefit plans.
Housing Accessibility and Affordability
The dream of owning a home is slipping further out of reach for many Americans. The staggering 3.8m+ unit supply deficit is a significant contributor (2). Over the last four decades, there has been a noticeable decline in the construction of smaller homes, which have historically served as the entry point for first-time buyers. This shortage of affordable housing options is compounded by the fact that the average home price-to-household income ratio has surged to 4.4x, the highest since 2006 (3). Just two decades ago, most major metropolitan areas boasted a ratio under 3.0x. In a recent report, Goldman Sachs underscores the seriousness of the situation, emphasizing that the 'U.S. housing affordability index has reached unprecedented lows' (Chart 1).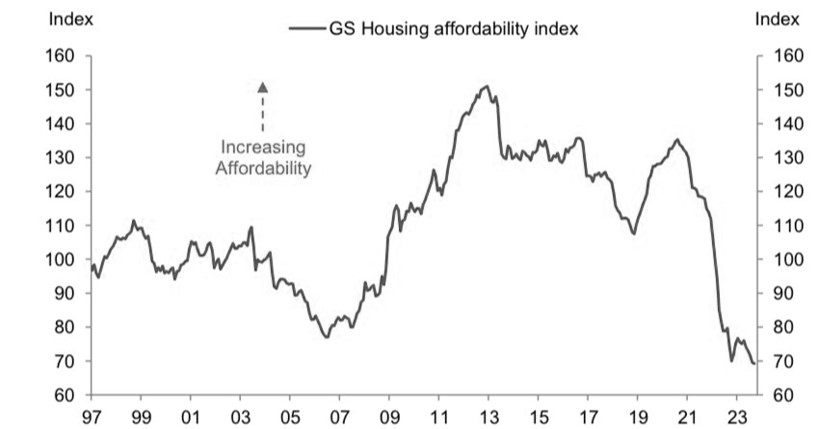 In the rental market, rent now eats up a larger chunk of household income due to fast inflation and flat wage growth. In 2022, at the height of U.S. inflation, a typical renting household spent around 40% of its gross income on yearly rent (4). Worse, the hourly wage a person working full-time needs to earn to afford a one-bedroom apartment is $23.67—more than 3x the federal minimum wage (5). Chart 2 shows that modest rental housing is out of reach for nearly every worker in the bottom half of the wage distribution.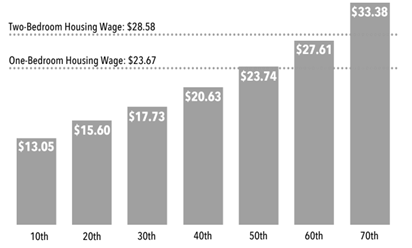 We believe the opportunity for technology and fintech solutions to expand access and lower costs in the residential housing space has never been higher. Here are a few areas that excite us: 
Boosting Home Supply

: Focus on the supply side of housing, whether through innovative construction methods that speed up the building process or SaaS-driven solutions that enhance building efficiency and reduce costs.

Ex. Mighty Buildings*, Cedar
Small to Medium-Sized Businesses (SMBs) and Workforce Empowerment
In recent years, the employment landscape has undergone significant change. Median incomes, adjusted for inflation, have experienced a decline, with last year's figures settling at $74.6k (Chart 3). The earnings for the top 10% reached an impressive $216k, while the lowest 10% earned a mere $17.1k (6). The financial strain is evident in the growing dissatisfaction among the workforce, exemplified by recent strikes in Hollywood and the auto industry. These strikes highlight the mounting discontent among employees, who are now not only demanding better compensation but also seeking job security, particularly amidst advancing automation and artificial intelligence (AI) (Chart 4). The challenging economic conditions have propelled many to look for new ways to make ends meet—ex. starting new businesses, scaling (what used to be) side hustles, and making career transitions to improve earning potential.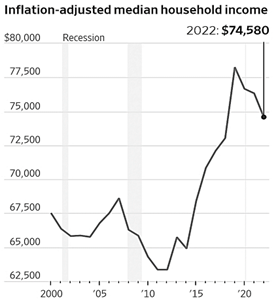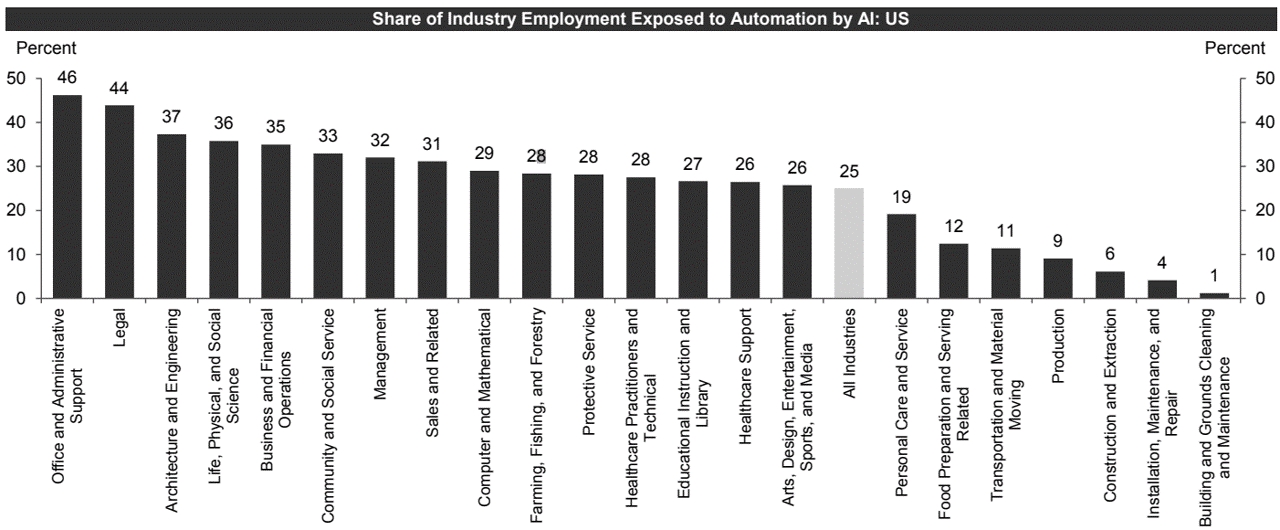 Core acknowledges that we are undergoing a significant technological transformation, which will meaningfully influence how both SMBs and workers do business. As a result, we'll be focusing on: 
Accelerating Career Advancement

: The complexities of identifying new job avenues, bolstering chances of promotion, and negotiating better compensation often fall squarely on the shoulders of the individual. We believe career "

co-pilots"

will aid individuals in navigating their professional growth amid tech shifts.

Ex. EarnBetter, CareerFlow, Bandana
Upskilling & Reskilling for Enhanced Earnings

: With 5.5m trade jobs available in the U.S., there are abundant opportunities for individuals to retrain and elevate their earning potential. Simultaneously, areas such as caregiving and the creator economy offer avenues for individuals to maximize the value of their talents.

Ex. Upwage*, Fynn, Aidaly
Healthcare Optimization
Healthcare costs are surging at an unprecedented rate. National health expenditures (NHE) are forecasted to jump from $4.4T in 2022 to a staggering $7.2T by 2031 (7) –outpacing GDP growth. Central to this growth is the aging population; those aged 65 and above require 3x more healthcare than working-age adults and 5x more than children. Yet, among these statistics lies a glaring issue: wasteful healthcare expenditure, which fluctuates between $760B and $935B each year (8). This waste, amounting to almost a quarter of total healthcare costs, permeates administrative, clinical, and operational domains (Chart 5)—driving up prices, and ultimately leaving consumers to foot the bill. For example, in 2022 alone, the average family premium for employer-sponsored health insurance was $22.4k, with workers shouldering $6.1k of the burden (Chart 6)—nearly a 3x increase over the last decade.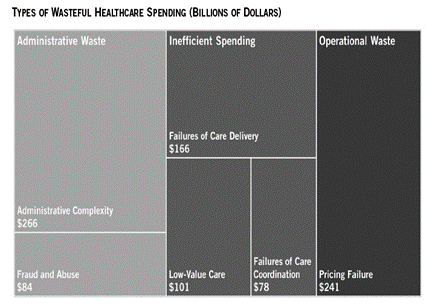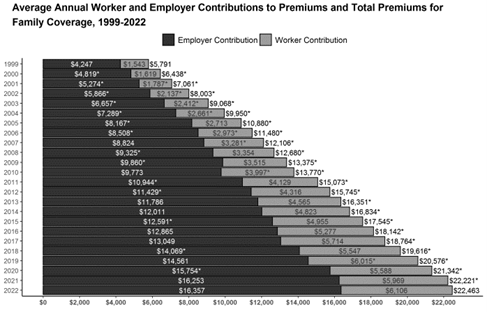 Here's where we'll be digging in: 
Accessible Health Coverage

: Platforms that provide better access to healthcare insurance & lending options that can bridge the coverage gap—including embedded products that offer improved coverage delivered via trusted consumer partners.

Ex. Chapter*, Decent*, HealthSherpa*
Operational Efficiency

: Solutions across payments, fraud, claims, and data management that aim to eliminate billions of dollars in waste.

Ex. Ribbon Health*, Flychain, Level
If you find yourself building across any of the critical areas discussed above, please don't hesitate to reach out. We are excited to back visionary and mission-aligned founders who share our commitment to reshaping these essential aspects of modern life. 
Comments and feedback welcome! Edwin@corevc.com
Subscribe to our newsletter and get the latest news, insights and industry reports.